Glow In The Dark Liquids For Halloween. I must be the last person to learn about this. Tell me if you have heard this one before. Did you know that you can get a fantastic glowing liquid just by using water and a highlighter?
OH MAN! I was supposed to go on and on about my memories of Halloween as a kid and all the wonderful times I had. I also should have told a long story about how I am creating memories for my kids today before I actually tell you how to use a highlighter and water to make a fantastic liquid that glows under a black-light. Well… that's actually it. Take a highlighter and put it in a glass of water, swish it around for about 20 seconds, then shine a black-light on it. BAM! Awesomeness.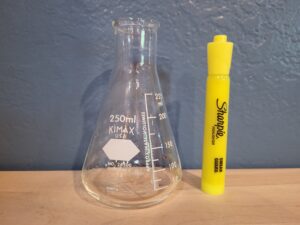 That is actually it, and it glows for days under the black-light. If you are anything like me you take this information, buy a bunch of different colored highlighters on Amazon, and make plans for an awesome Halloween display. Let me save you some time, money, and disappointment.
First, not all highlighters work. The first one I tested was Sharpie brand yellow. It worked fantastic, and it didn't take much to get a great yellow glow. What you are seeing below looks a different in real life, but it is pretty awesome.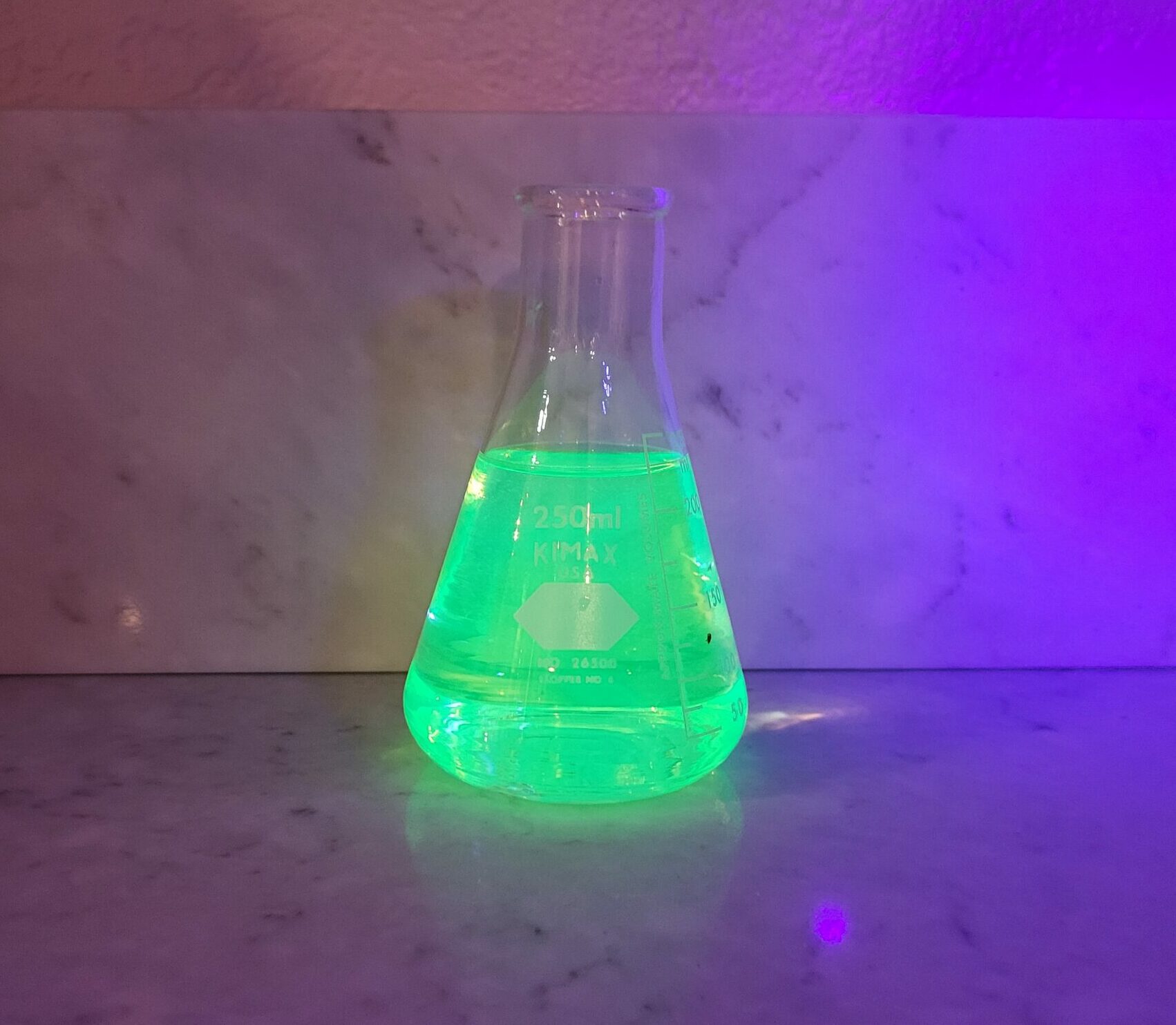 After I saw how great this worked I wanted to get as many different colors at the cheapest price that I could. Online I found Dabo & Shobo multi- colored pack of 24 for $9.99.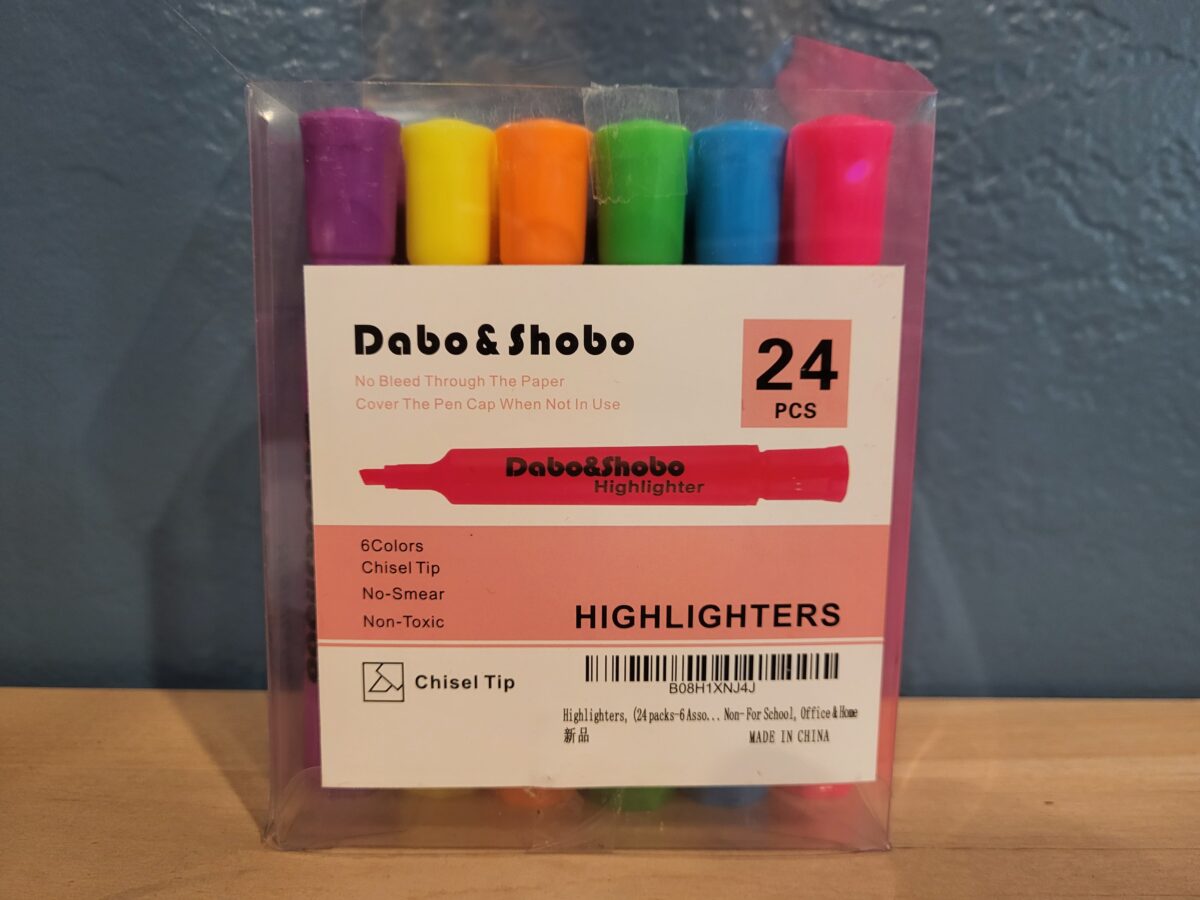 I was making plans for all the spiffy things I could do with all of those colors. Let's just say I am glad I tested them early. It's not all bad, but I really need to learn how to manage my expectations. As you can see in the picture below, some work better than others.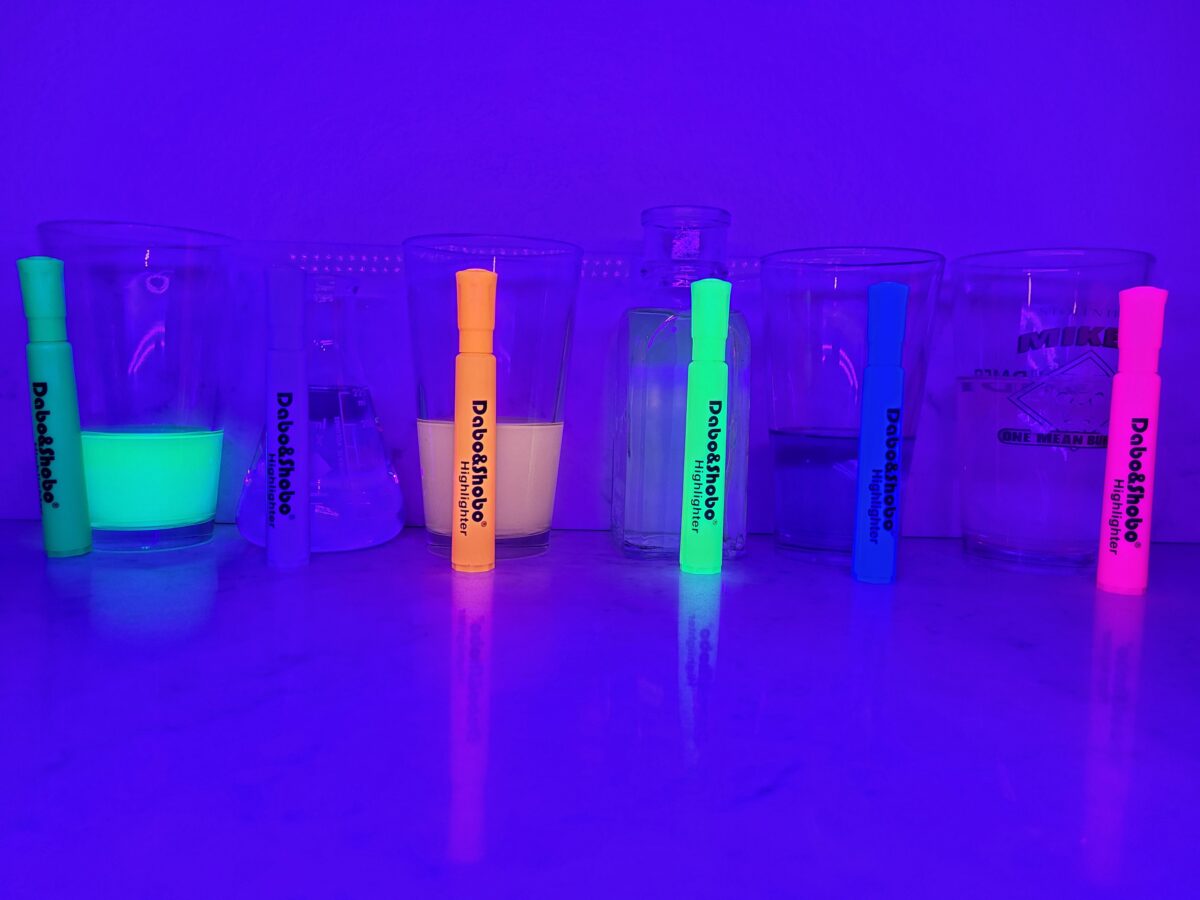 The green worked great, but looks exactly the same as the Sharpie brand yellow. Purple did nothing. Orange was pretty awesome and definitely a keeper. Yellow and blue did nothing, and pink was unimpressive. This is by no means a criticism of the Dabo & Shabo brand highlighters. Putting them in water is not at all what they are intended for, and as highlighters they are great. For this project I wanted to be clear what my results were.
When you compare the Dabo & Shabo green next to the Sharpie brand yellow, they are pretty much the same color. Just as an FYI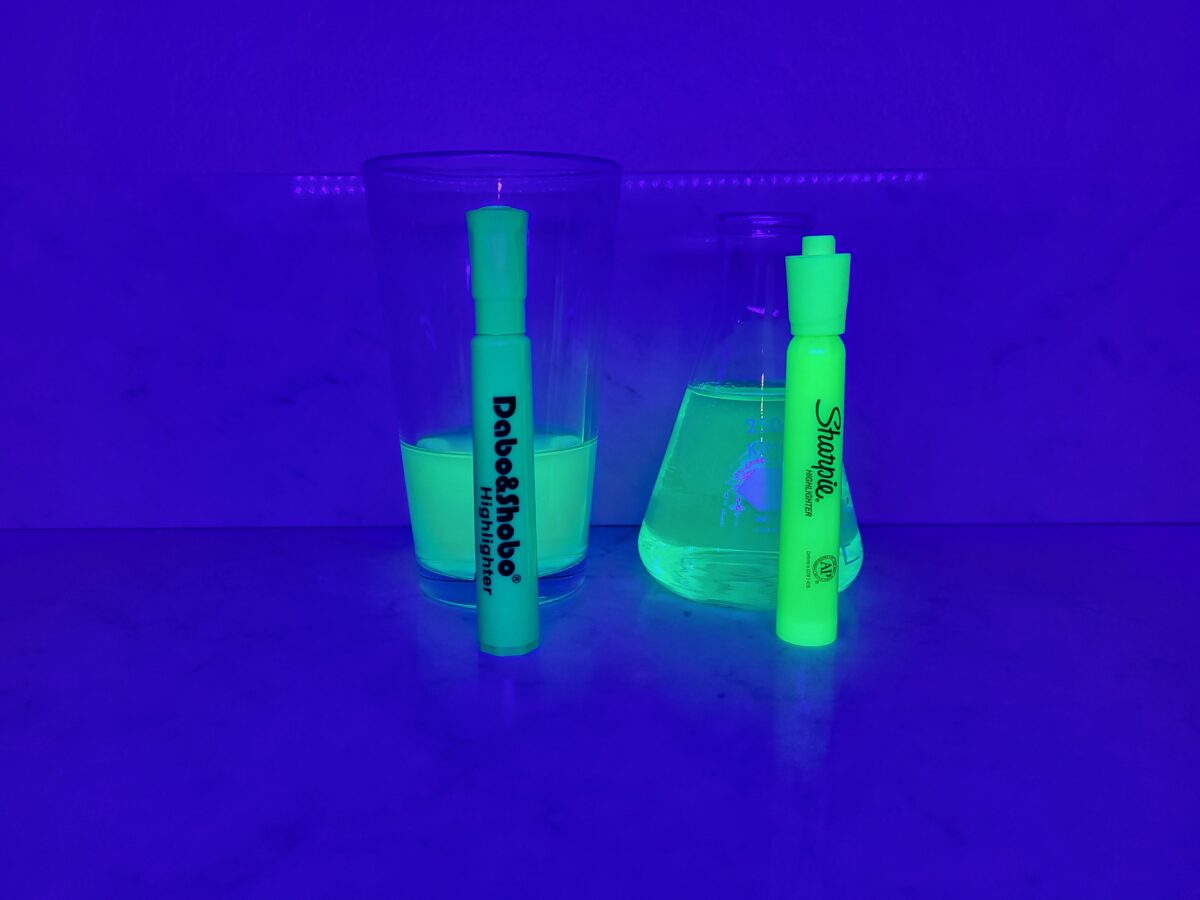 I had an older Sharpie brand orange and pink, so I took them for a test drive as well. Compared to the Sharpie brand yellow, they are pretty dull.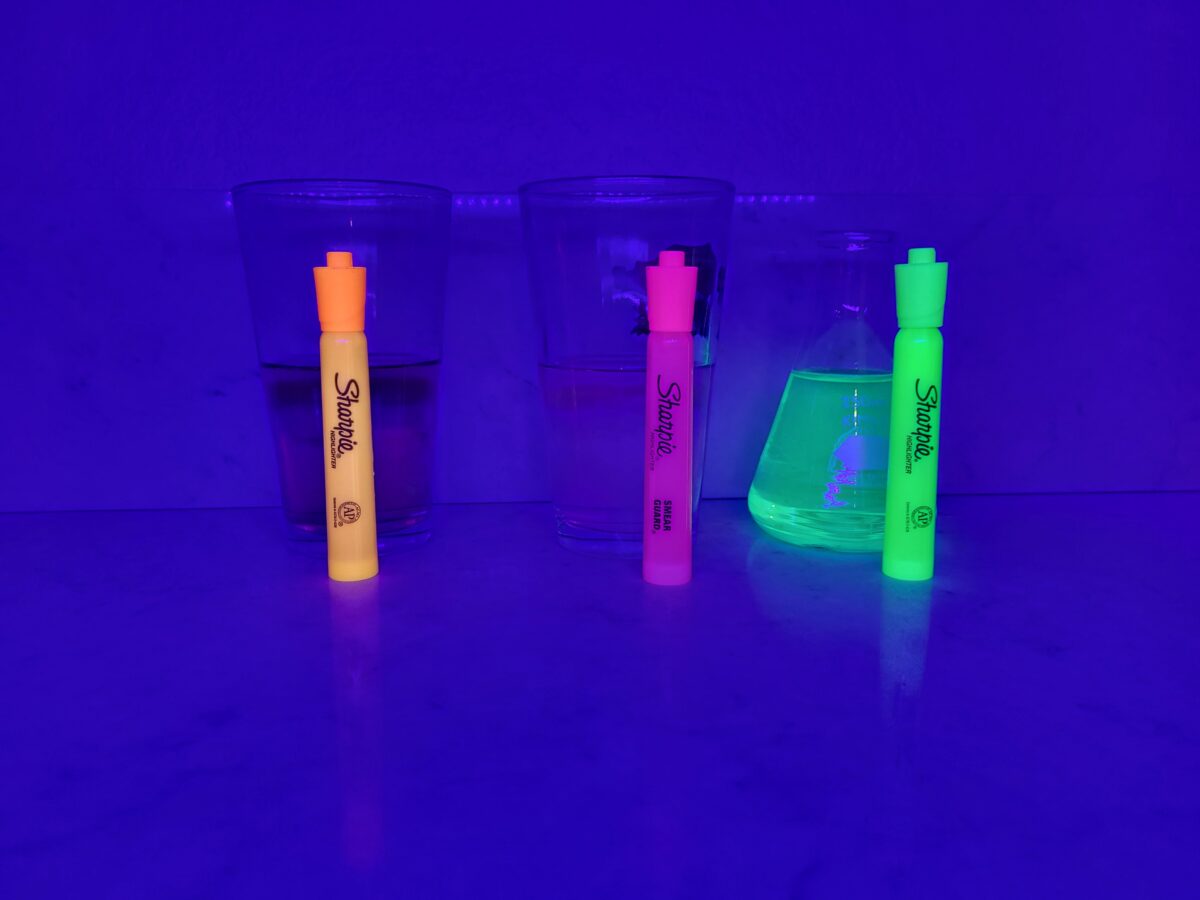 Just for giggles I tested using Tonic water and food coloring, because I heard Tonic water glows. I used one drop of red, yellow, and green in separate glasses. The fist glass on the left is just the Tonic water. I won't even mention what colors are in the next three glasses because they are just a hot mess. The last color is yellow sharpie in water for comparison. The results… no… just no. Tonic water does glow with the black light, but it really needs to be shining right on it.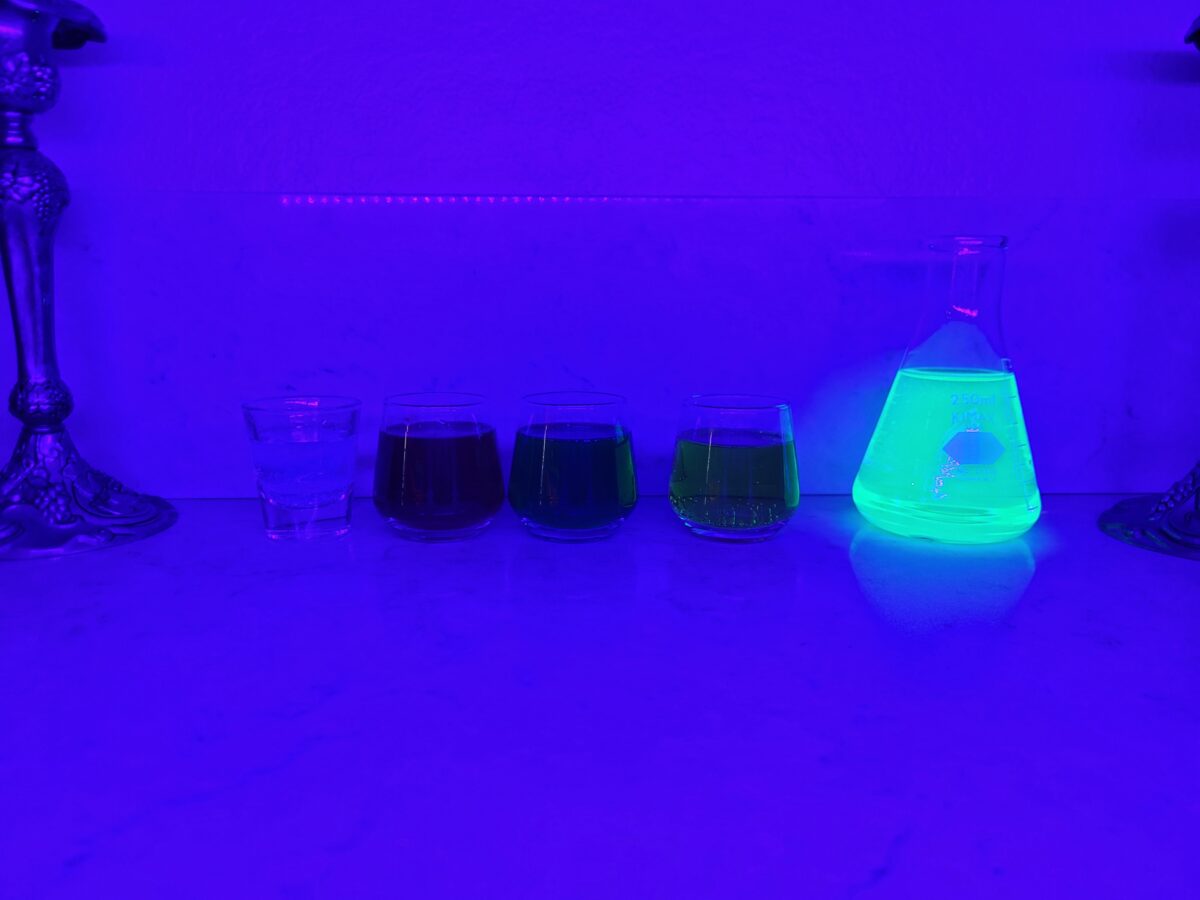 Well, that is all I have to say about this for now. I will test out other highlighters as I get my hands on them and will let you know if they work. I love the fact that it is so cheap and easy, and with the right colors you can really have a lot of fun with it.