Great Gift Ideas For Christmas 2022. Shopping for loved ones for Christmas is the biggest pain in the tush. Let's be hionest here. Trying to think up gift idesas for people is one of the WORST things you have to do during the holiday season. I have tried asking people directly what they want, but all I ever get from them is either "I don't want anything" (BLEGH), or "I don't know." I hate both of these responses with a passion. So I have decided to just start making a list of ideas. Some items I have used and love, others I am hoping will either be something you think the person on your list would want, or at the very least give you an idea. I am not getting paid for any of the items on the list, unless I specifically say I get something in return for you trying it out. Here we go..
Sous Vide (pronounced sue-veed) Cooker – Now you might be asking yourself, "What the heck is a Sous Vide?" Excellent question. It is a cooking technique that uses precise temperature control to deliver consistent results. Basically you put the meat or veggies in a vacuum seal or food safe zipper bag. Place it in a pot of water, and using the cooker bring the water to an exact temp and cook the food that way. The moisture along with the seasonings or marinade are sealed in the bag and you get perfect steak, chicken or veggies every single time. You will want to sear the meat after it's done, just so it doesn't look like boiled meat. You can find the cookers as just a wand, which works great in a regular pot that you would boil pasta in. Or you can get the fancier setup that has the tank, cooker and lid. Both work great! Hubby has used both and they both work just as well. I like the idea of just the wand, so I have less stuff to store. Below is a picture of mine with my 8Qt pot. As you can see, there is not much to store.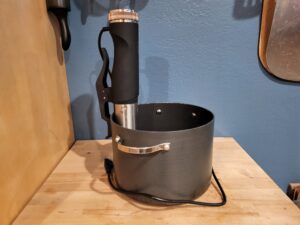 ---
Hero Pill Dispenser: There is NOTHING sexy about this item, but hubby has not stopped raving about it since we had to move my father in law into an senior living community close by. He has a lot of pills he needs to take at certain times, and hubby can't be there every single day twice a day to make sure he takes his pills. The Hero Pill Dispenser sits right on your counter, holds up to a 90-day supply of meds (any pill size or shape), and whoever is the caregiver can monitor the schedule and if the person has taken the pills or not, remotely using an app on their smart phone. It is a monthly subscription where they send you the device and you are obligated to one year. On the website they say there is a 90-day risk free trial. There is also a one time $99 initiation fee, but there are coupons for that. It is $45 a month, but if you use the link below you will get three months free membership. If you use my link I will get free months as well. You will get the chance to enjoy free months when you share your link after you enroll. WIN WIN!
https://herohealth.com/referral/REFJWHUCZXRH?utm_source=hero_mobile_app&utm_medium=refer_a_friend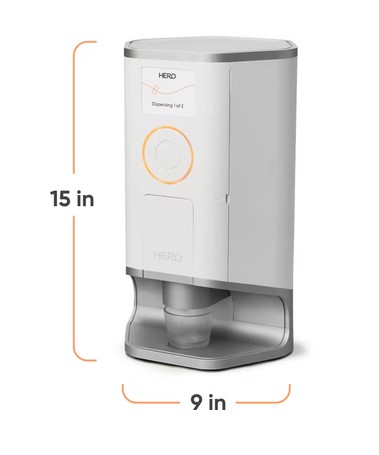 ---
An Experience: A great alternative to giving a toy or gadget is a gift card for an experience. People don't always want things. Sometimes the best gift is the gift of fun and excitement. That sounded really corny, but you know what I mean.
Movie tickets, Local Escape Rooms, Airsoft / Paintball / Laser Tag, A Favorite Restaurant, A Pottery Class, or even a wine tasting class.
---
MasterClass Membership: Along the same lines as an experience, you can also give the gift of a MasterClass online membership. Right now they are offering 2-For-1 memberships starting at $15 a month. "Get Unlimited access to 180+ classes delivered in bite-sized lesson." Categories include Design & Style, Arts & Entertainment, Music, Business, Sports & Gaming, Writing, Science & Tech, Home & Lifestyle.. and more! Click here to visit the MasterClass Website
---
Escape Room Board Games: You and your friends (or family) want the fun and excitement of going out, but you really don't want to wear pants? Then an Escape Room Board Game is just the ticket. My youngest boy absolutely loves Star Wars, so we got Unlock! The Escape Game. Star Wars Edition. For around $34 you get three different escape games that use both cards, and an app on your phone to complete. A quick search on Amazon for Escape Room Games will return pages and pages of different themed games at many different prices. The only one I have bought was Unlock, and it was pretty fun. It was not easy though. So read the reviews when you pick out a game. Make sure it is age appropriate. If the person you are buying for has never done one, get an easy level. It can get very frustrating and discouraging if they are too complicated.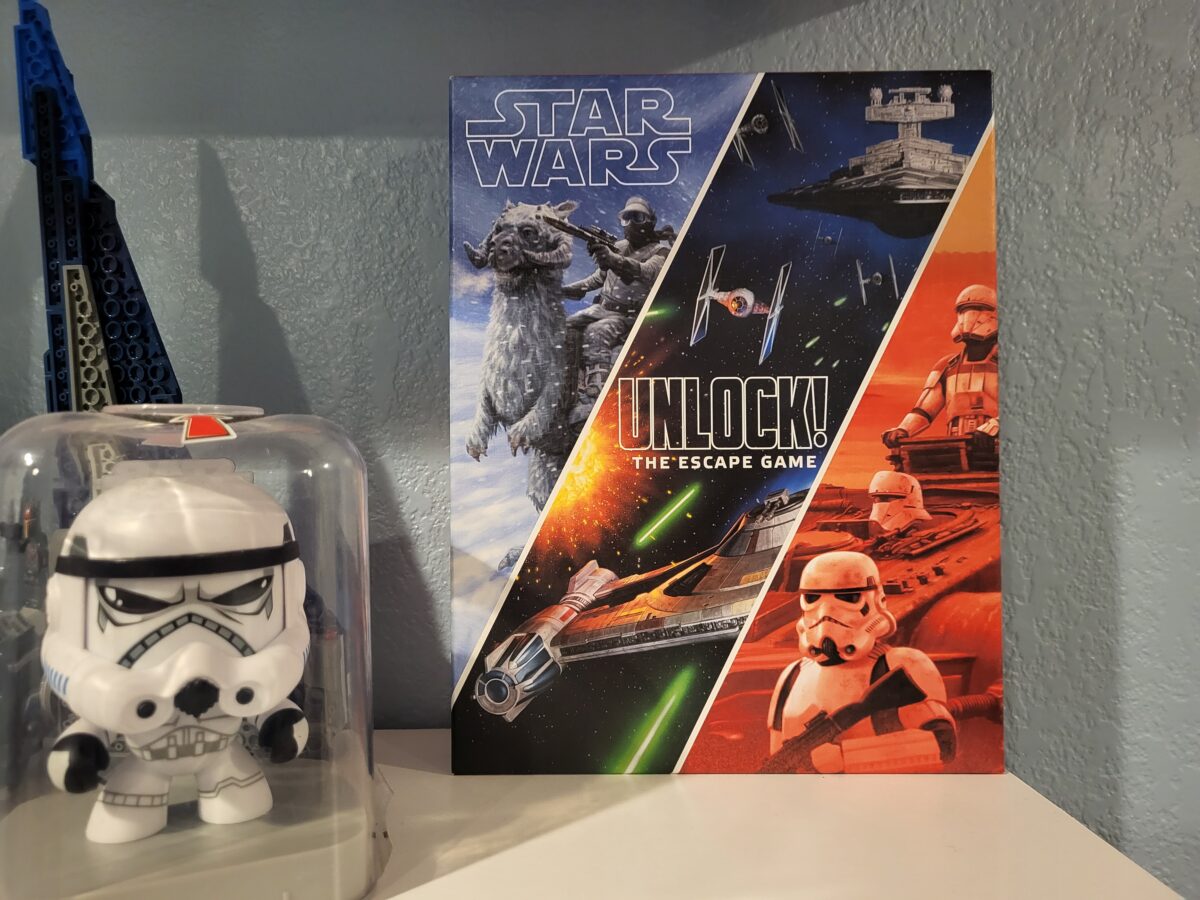 ---
6 Dollar Shirts: Every year I buy my hubby at least four or five funny t-shirts from the $6 Dollar Shirt website. Size small to extra large shirts are $6.50, 2XL are $8.50, and 3XL are $9.50. The selection is HUGE!!!! We are talking THOUSANDS of designs. As you can expect the quality is okay. Not great… but fine. I wash mine in warm/ hot water and throw them in the dryer to bake. After a while some of the graphic fades a bit, but for under $10 I don't expect a whole lot. I'm sure they would last a lot longer if I washed them in cold water and hung them to dry. I abuse my clothes. NO MERCY! They usually last a year for hubby and by the time Christmas rolls around he is ready for new ones. Click here to visit the 6 Dollar Shirt website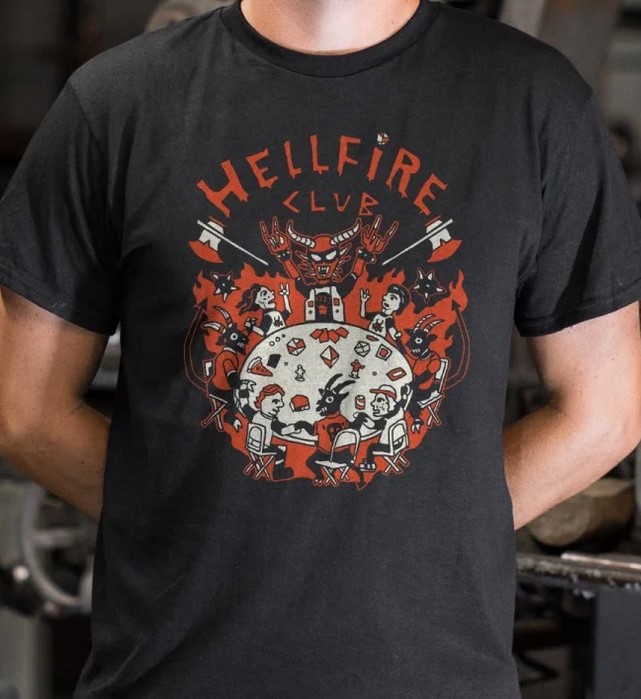 ---
Raddish Cooking Club For Kids: For those little chefs in your life, the Raddish Cooking club is absolutely amazing. It's a subscription service that send monthly kits with shopping lists, recipes, and even kitchen utensils, that teach kids how to cook and bake. My youngest received a subscription as a gift from his grandparents and they were a lot of fun. The recipes were simple yet really delicious, and he gained a lot of confidence in the kitchen. I will warn you though, limit the subscription. Each kit contains recipe cards and tools, so stuff starts to pile up after a while. Also, families get busy and can find themselves with kits piling up. I would start by doing 6 month membership. And then see how it's going from there. Click here to visit the Raddish Website.

That's the list for now. I will be adding more as the season goes on. I would absolutely love to hear from you if you have any recommendations for the list. Let's work together on this so we can get through the shopping season with our sanity!